An Interview with Kat Mische Elle
Anastasia, tell us about your life growing up in Ukraine.
In 1991 I was seven years old, and I remember seeing crowds of people and the Ukrainian flag on the TV. And my parents told me, "You know, something important is happening." It was Independence Day for Ukraine. Our country finally separated from the Rule of Russia. But as a kid, I did not understand the magnitude of what that meant.
My dad used to be an architect and lost his job like everyone else due to this break from Russia while moving into the restructuring of an independent society. My father had to become creative to provide for our family by doing different things. He began selling and reselling everything from socks to trucks at the market during this time.
People with several degrees, even professors from schools, were also desperately trying to make money in any way that they could.
My mom would take Ukrainian goods to Poland and sell random things like light bulbs. She would use the money to bring me bubble gum and little cookies, which were not in Ukraine at this time.
The public schools are free in Ukraine, so I was at least able to continue my everyday life with my studies.
There was an intense English course that was offered to me in school and that is when I became acquainted with the English language.
I remember we were struggling all the time. When I was in high school, I wore my mom's clothes because we didn't have the money to go and buy whatever we wanted.
It sounds like your family was always rich in love during these times?
Yes. My brother, my mom, and dad and I were very close. My father would always create little miracles for me. For example, he would buy chocolate and hide it. When I would ask if we had any chocolate, He would pretend to do magic to make it appear from random places in the house. It was just one chocolate bar, so the whole family would share it when it was found.
When I was in the ninth grade, my dad made me go and sell ads in a local newspaper. I would go from door to door selling ads because my dad wanted me to stop being shy and start talking to people.
As the years went on, our country was becoming stronger all the time, and the Ukrainian citizens were proud to be on their own. My parents wanted me to be able to take on any opportunities by storm when they became available. They were great support for keeping me positive and determined for my future.
Your father is a genius.
Yes, seriously, Kat, I have no fear of meeting people, whoever that is, and it all started from that experience.
After building my confidence, I began acting in a little local theater. So that helped me also.
When I was close to finishing school, my mom encouraged me to become an interpreter, which makes sense because I was good at speaking English. So, I pursued becoming an interpreter. I was a simultaneous translator and interpreter for English and French for businesses and some governmental organizations at the time because I am fluent in Ukrainian, Russian, French, and English. I became a great asset for companies' entrepreneurs, especially for those who were wanting to expand.
I was also accepted into the international airlines group as an assistant to the CEO. That was my first job ever.
I started as the assistant to the CEO, and one of my tasks was to open the letters that came into the business.
As I was reading the letters, there were passengers' complaints; they were complaining about the service they had received from the company.
I started calling on those people and apologizing for the service. The response was always filled with gratitude for me taking the time to reach out to them.
This was the first time when I started thinking about customer service. Moving forward,
I did every training possible and became Deputy CEO of Customer Service. I saw an enormous potential for good by doing this, so I opened the country's first customer service hotline for Ukraine International Airlines. It never existed before in Ukraine.
Businesses in Ukraine did not have customer service until you created this?
Customer care, no, nothing. They all had a "Complaints Department," but they never had a "Customer Care."
I then went to the US to get next-level certification training, and from that point, I could consult other companies and teach each company how to have their team for customer care.
It grew from the airlines to other companies in our country. I started the whole thing. I started my consulting agency in 2013. But I've been doing Customer Service since 2005.
Tell us about the months leading up to the invasion this year and what you were experiencing with the possibility of it happening.
The Ukrainian people had the information that Russian troops were on the border, and we all continued our daily lives by working and doing the usual things. Ukrainians are very hardworking people.
We were informed by some intelligence that Russia was expected to invade on February 16.
The 16th came and went, and most of us believed that Russia was playing with us, but when I woke on February 20, I felt something concerning about the day, so I decided to take a giant suitcase on my work trip, just in case, not my regular little carry-on that you will take for two nights. The general conversations were not to panic, and that Putin would not invade.
I kept telling myself that everything was fine, holding on to the fact that the last time we had a war in Ukraine, my grandmother was a little girl. And because war at home had never occurred in my lifetime, it was hard to imagine it in reality.
I kept telling myself that I was okay. I was very successful, and my agency was highly successful. We had international brands as customers, I was doing speeches, and I was booked for seminars for a year and a half. And my clients were also very successful. Holding on to this with my schedule planner kept me in the belief that nothing would change.
Then February 24 came, and that's when it started. Almost ten days after he said he would.
Where were you when you had to leave immediately? Were you separated from friends and family?
I was on a business trip in Ukraine, and while sleeping, I was woken up by the roaring sounds of many airplanes. And then an earth-shaking boom from the explosions.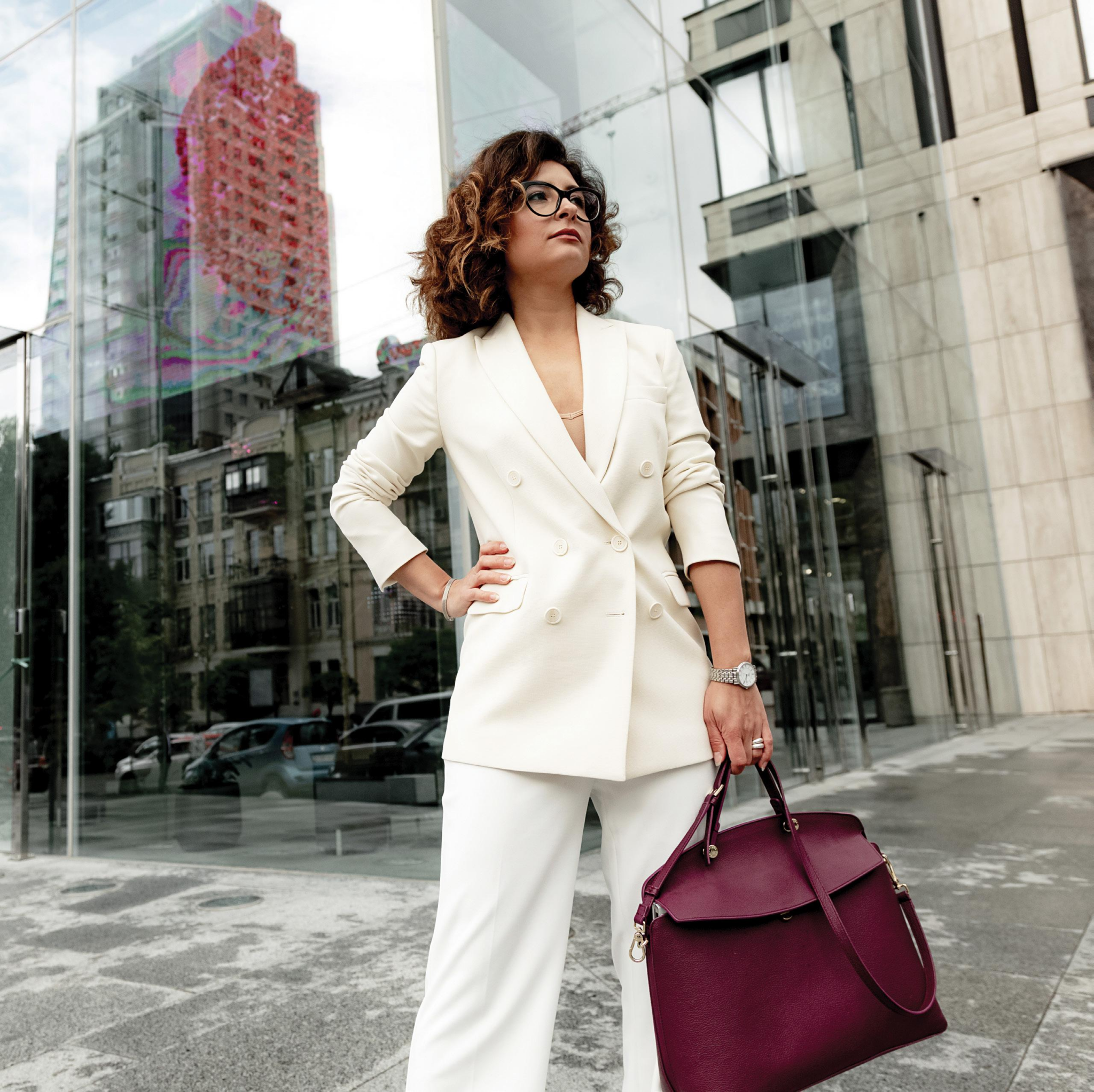 They were bombing the airport so that people couldn't leave. My dad called me and said, "Anastasia, the war started. You must get into a car and leave to the western part, which is safer and close to the Polish border." I said, "No, I cannot leave because I'm doing a workshop." I wanted to distract myself by staying responsible.
I'm pretty sure people were going to ditch the class.
Yes, completely. All the calls came in and everyone fled different directions. I got into a car with my colleague. We drove to Lviv, and gas stations ran out of gas almost immediately. We listened to the sirens and went to bomb shelters. I stayed in Lviv until March 2, which is my birthday.
I fled Ukraine on that day. I would never have thought a month before that, my husband and I were discussing how we would spend my birthday. We were choosing between Paris, Rome, and Florence. But instead, I ended up celebrating it in a car, fleeing my country, and seeking refuge at a friend's place in another country, Italy.
My parents stayed back in Ukraine. They're there now. I have my husband with me only because he's not a Ukrainian citizen. If you're a Ukrainian citizen male from age 18 to 60, you cannot leave the country right now under martial law. You have to stay. So that's why all my women friends who fled are without their husbands.
Your parents, they could leave but they chose not to?
Yes. They didn't speak any other language and didn't know what to do in a different country. For them, leaving the place they knew would be very hard. In such a situation, logic does not work. You can use any reasoning from the outside, not from the inside. Sentiment takes over. Emotion can take over logic.
Considering, especially when you're in shock.
Yes. And this is trauma. So, they were experiencing psychological trauma. Your mind works very weirdly when you're in that situation.
Tell me about what the women who had to flee Ukraine were going through.
The husbands are in Ukraine, and the women are with kids somewhere else. This means that they have no idea when they will see their families again.
A friend of mine lived in her car with her kids for five days. The children were so traumatized. They wouldn't talk or eat.
They are suddenly dealing with the language from another country and unable to communicate efficiently for the help they need. The women cannot find a job because they don't speak the language. I started to help these women find remote jobs or even send them money for groceries.
It's heartbreaking because these women are educated and used to be top managers in great companies. One of my friends, a financial expert, fled with two kids while she was due to have her third.
She gave birth to the third child in Bulgaria without her husband or any other family. She called me and said, "I think I'll be ready to work in three days. Do you think you have a remote job for me because I have to provide for my kids?"
Even though these women are feeling lost, they are also being very proactive, strong, and resourceful. I phoned another friend, one of my clients, who lives in Bulgaria. She fetched my friend, her two children and newborn. She brought her strollers, baby clothes, and baby food. I felt grateful to witness this type of humanity with all that was happening. Being human shows the world what it means to serve each other, which is my thing.
From customer service to human service. In Ukraine, former clients of mine, founders of enormous manufacturing companies, are now fighting on the front lines for their country. These men are not staying in Ukraine trying to get their business going. They want to go and fight for their country because the Ukrainians feel a very high responsibility for their people and for their country.
Most people do not realize that it is illegal for men to leave; they can't just leave. They will be either detained or something worse if they try to cross the borders. But I must tell you, Kat, even if they could, they wouldn't.
Wouldn't they?
No. Ukrainian men are courageous, and they have a high sense of duty. My male friend told me his little girl is calling him and she's somewhere with her mom in Switzerland. She was on the phone with him crying and asking, "Dad, when can I return to my toys?" It breaks his heart because he cannot tell her when.
What inspires you to keep going? To keep moving forward?
When I started helping my girlfriends, I did it out of necessity. But when they reach out to me and say, "Anastasia, I just wanted you to know how you saved my life, and here are the pictures of my kids. They just went to school. They're finally happy and finally eating because you helped us to find accommodations". I become filled with power. This gives me strength, knowing I am continuing to be of service by helping others resolve current problems. My mission is to change the world by service. And whenever I'm doing it, I feel inspired. If I am not working towards that, if I don't help someone during this time, I don't think I am doing my job as a human.
The power of gratitude is being displayed here with your actions. You're grateful to be able to help, and they are thankful for your help.
Yes. It's a key component for survivability. Being grateful for shelter, food, and support helps to keep the spirit going in a time of uncertainty.
Who brings the most inspiration and drive in your life?
First, I will start with my parents. They taught me to dream bigger than what was before me and reach that goal. Then my first boss, the airline's CEO. Because I came up to him at 20 years old and said, "I am not yet an expert, but I see that our customer service isn't good. And I would like to create a Customer Care department.
Would you allow me to do so?
And by the way, I want four times more salary because it's more work." He agreed with my request, which was the start of my career. But in terms of who influenced me, I would have to say God and having faith. And that sometimes achieving an inspired success, is just being able to connect with and successfully help others.
What is the most efficient way for the readers to find and follow you?
Facebook under my name and Instagram @theworldservicecoach