Can you share with us your personal journey, starting from your childhood up to where you are today? We would love to hear your story and how you got to where you are now.
I grew up in Lancaster, Pennsylvania, a small city where my father's family were Amish Mennonites. From an early age, I had the desire to escape my surroundings, and at age 14, I decided to take a train to New York City to audition for a tour company with a Broadway show.
Did New York reinforce your interest in acting?
After the tour, I returned home and continued acting in local theatre through high school. During the summers, I ventured out to different theaters within a 40-mile radius for summer stock performances and continued into my 20s when I moved to New York.
What happened first upon your return to The Big Apple?
I had the idea to write a play during a summer stock show. The musical was produced off-Broadway and garnered enough attention for one of the backers to start a video disc company. These discs were similar in appearance to 78 RPM records and were released around the same time as VHS tapes. Rather than a tape, the disc was considered indestructible, and the viewer would buy it to watch a movie. The discs also had interactive features thanks to a laser, and the backer asked me if I knew of any stories that could work interactively on the discs. I suggested mysteries, and I ended up writing two of those, which were quite successful. They were called the Mystery Discs, and they featured one beginning segment that branched off into either 16 or 32 different endings, like a Choose Your Adventure book.
This entry into the mystery genre is what got me started in my current career. Parker Brothers tracked me down and asked if I wanted to work on some Clue-related projects. I worked on seven or eight projects involving Clue, including Clue VCR Mystery Game, and consulted on the Clue movie. And then, a publisher approached me and asked if I wanted to write short mysteries for kids. Despite my lack of skill in self-promotion, I had a reputation for being easily reachable by phone, which proved advantageous.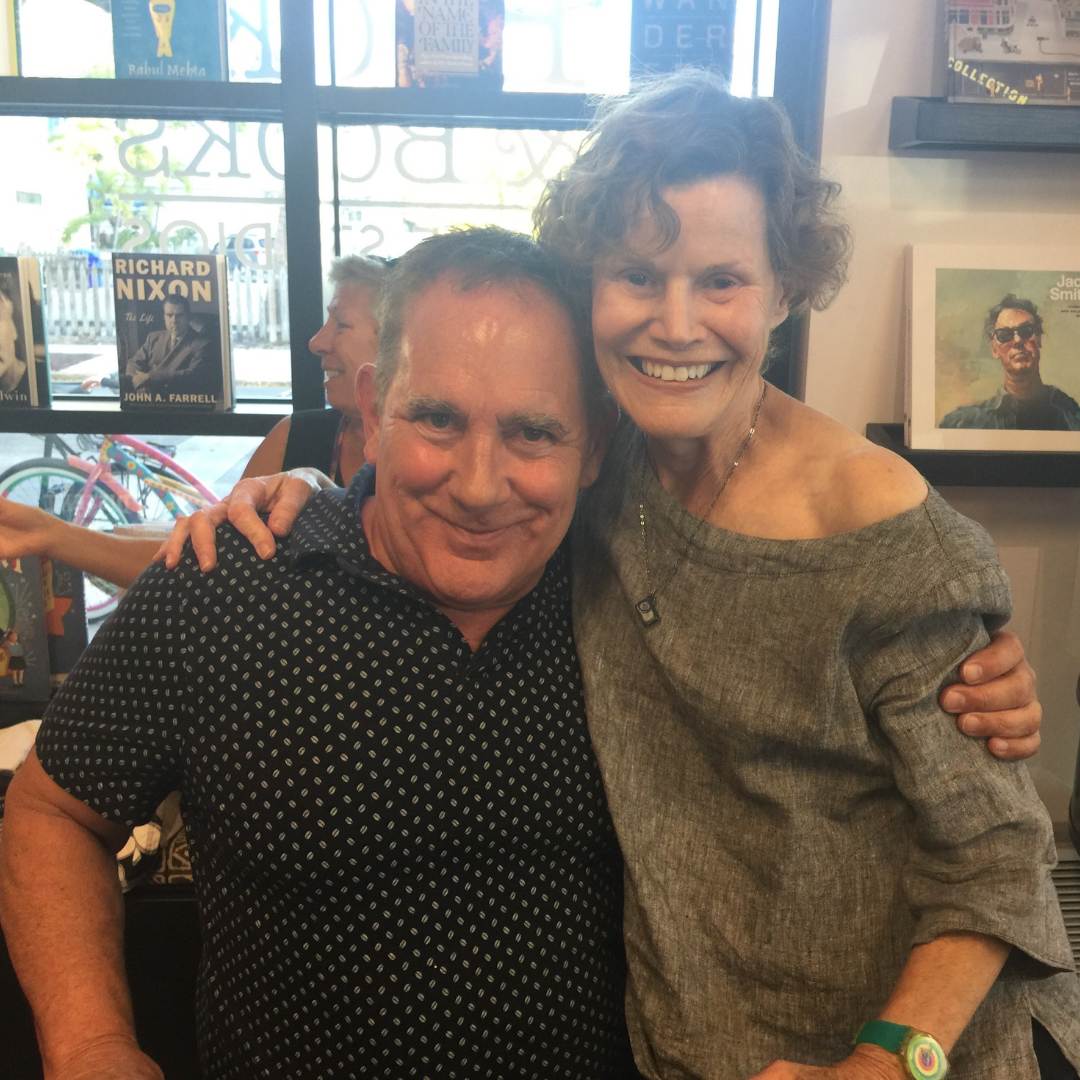 Who or what inspired you to start writing in the first place?
I find it difficult to point to any specific person or event. However, if I had to choose one moment that inspired me to pursue writing, it was likely reading Agatha Christie's "The Murder of Roger Ackroyd" in my late teens or early twenties. The ending was so surprising, and it was the first time I realized how much I admired the genre. Even though I was still acting, that experience helped seal the deal for me and drew me to write professionally.
You mentioned earlier that being easily reachable by phone was advantageous. How so?
The creator of Monk, Andy Breckman, worked for two years to get the show picked up. When it finally was picked up, they asked for 15 more episodes, and Andy panicked. He went into a bookstore, found some of my books, and tracked me down. I then began working on Monk as a story consultant. At the end of the eight seasons, I had risen to the rank of co-executive producer, and I was also the executive producer of Little Monk, a web spinoff we produced for a while.
My experiences with video discs led me to the television industry. Eventually, an agent contacted me and offered to represent me, which opened further opportunities. I worked on a mystery project with Steve Martin's company for ABC for years before the production of "Only Murders in the Building." I am currently focused on a series of books I wrote eight to ten years ago. The books center around a travel agent whose travels inevitably lead to murder. Hallmark had expressed interest in this series for years, and they finally greenlit the project. I am currently writing and helping produce the first film in the series.
When will these movies be released?
If all goes well, we hope to film during this summer of 2023 and release it in the first quarter of 2024.
Reflecting on your niche for mystery and adventure scripts, why do you think this is your forte?
I have always gravitated to structure, and my work with Hallmark has been challenging. They ask for a specific formula, including having something exciting happen within the first three minutes and at the 45-minute mark. There are also limitations on the number of main speaking characters, which presents a structural challenge that I enjoy. I like puzzles and figuring out how to combine pieces to create a cohesive narrative. This requirement draws me to mysteries, the challenge of making everything fit together. As a child, I read The Encyclopedia of Brown Mysteries and Arthur Conan Doyle's Sherlock Holmes. I wrote many children's books similar to these, and I've always been intrigued by the structure of things and figuring out how to make them work.
How many years have you been involved in acting and writing?
A substantial amount of time. I recently turned 73, and I have been involved in entertainment since I was 14. I love to stay productive. I'm still writing my first movie. I've enjoyed success in TV, books, interactive games, and more. I feel vital and attentive, and I still work hard in my career. I am very fortunate.
You've had remarkable longevity with your passion and projects. Has luck played a part?
I'm not a big believer in luck. If you step back and truly listen, you can see how everything falls into place and where you are in making that happen. If you center yourself as a writer, go within, and think about what you want to display in the world, that brings you more into what you've created, not just on paper. I think that's what gives me longevity.
Do you have any advice for yourself, or your younger self, as you continue to have a successful career and life?
Two things come to mind. Firstly, humble determination. The artist can't have an ego; they can just be dedicated to the work and make it meaningful. If an editor makes a comment that you disagree with, instead of thinking, "this is what I wrote and imagined. It has to be exactly this way," you might be missing the point of what you are supposed to learn. Let the work guide you, without having an ego about it. Secondly, perseverance. To persevere, you cannot go against your grain or personality. If you're an introvert like me, network among a smaller group of friends, and don't take the path everyone else does because it won't fit your personality, and you won't stick with it. Surround yourself with extroverts and make sure you have your own space to hide from people. It's important to understand that what works for one person might not work for another, depending on their personality.
Tell us about an extrovert and an introvert living and working together.
My spouse is a true extrovert. He can't walk the dogs without conversing with 15 different people. And I am an introvert, and it's good that we have each other after 44 years together. He complements my strengths perfectly and helps with publicity getting my name out there. I'm fortunate to have many supporters who are extroverts themselves, and they are excellent at talking up my projects and raising awareness. That's what I meant when I mentioned the importance of having extroverts on your side to promote your ideas convincingly, which I may not be able to do myself.
So, extroverts and introverts CAN make a good team?
Indeed, teamwork is crucial for success. I often advise people to take their emotions out of the equation for better results. Ego, after all, is a twisted manifestation of our emotions when they flare up. So, taking the ego out of the equation can be quite helpful.
Can you share and example of when you took your ego out of the equation?
Sure, while working on a recent project, I came up with an outline that I was very excited about, with some innovative ideas and a thrilling plot twist. However, when I submitted it to the producers, their response was far from encouraging. They pointed out several issues, such as it is having too many characters, and wanted me to change the story altogether. Initially, I was shocked and almost tempted to respond negatively, but I decided to sleep on it instead. Eventually, we collaborated and developed something that we all agreed on, but it took about a month.
Giving yourself space to figure things out can make a difference. It's always better to pause and say, "Let me get back to you on that." It's a mantra I follow and recommend to others.
On a more personal note, what's something surprising about your personality that people may not expect at first glance?
As a writer, I don't have many hobbies. However, I am an introvert who is into adventure travel, which may come as a surprise to some. For instance, when COVID first emerged, my husband and I were diving with eight other people off a small boat on the remote Indonesian coast. We have planned several trips and projects, including driving across Australia, a rom-com movie, and another mystery novel. I'm also working on an indie movie featuring a woman in her eighties during the lockdown.
What's the best way for people to keep up with your latest adventures and work?
Hy Conrad – authors site on Facebook