An Interview with Kat Mische Elle
Anna Maria, where did your connection to music begin?
I was born and raised in San Francisco with many Hispanic influences. My grandfathers came from Spain; my grandmothers came from Mexico and Guatemala. Every time my family would get together for gatherings such as Thanksgiving and Christmas, we would roll up the floor, dance, and play music.

I knew I wanted to play the harp since I was five years old and started harp lessons when I was seven. My parents were both musicians, and my siblings and I were raised listening to classical music in the house every day. My parents encouraged us to take music lessons, dance lessons, and art classes. My father used to take great pride in collecting instruments. We had everything in the house, everything except the harp. I wanted to be different.

My choice was between the harp or the bagpipes. Imagine a five-year-old with bagpipes! My parents happily supported harp.

My parents played a recording of Tchaikovsky's Romeo and Juliet. In the middle of this incredibly beautiful piece with a full orchestra, there's a sacred hush where the harp plays solo. I was mesmerized. I knew that was what I wanted to do. I had my parents play the recording over and over again. I would put my ear to the speaker just to hear the harp, and I knew that's what I wanted to do. I wanted to play the harp. There wasn't anything else for me. However, it took two years of begging my parents to let me play it. My parents started me on the piano first to keep me busy. Then, at age seven, they took me seriously. I started on a very small harp. I would daydream about playing the harp in concert, and with orchestras.
How old were you when you started playing for an audience outside of your home?
I was fourteen when I started playing the harp for community concerts, churches, and weddings. I remember playing for my first wedding. I was paid twenty dollars.

After that, I kept pursuing paid performances, and the jobs came. I was performing every month through high school. I would participate in playing for musicals and orchestra concerts. I kept that going so much that when I started college, I was already playing professionally for hotels and restaurants, gigging everywhere and making money. I was so grateful. I was only a part-time student because I was performing so much. My father guided me when it came to business, and I was able to buy my first property when I was 21 years old with just my harp jobs.

The harp continued to be a part of my identity and was always my go-to when I needed to release my emotions. If I got distracted by a boyfriend and had a breakup, my teacher would say, "A breakup is good. It'll make you a better musician."

Because I was playing at such a young age professionally, I had already been connected with many agents and presenters. It was in high school that I became more focused on playing, not just classical music, but playing Spanish music. That opened many doors for me! I was invited to perform in Washington, DC for the National Hispanic week and was just barely twenty-one. I was invited by the director of the CIA to perform at the CIA headquarters auditorium. Definitely one of the most original venues I have ever played.
Because I was playing at such a young age professionally, I had already been connected with many agents and presenters. It was in high school that I became more focused on playing, not just classical music, but playing Spanish music. That opened many doors for me! I was invited to perform in Washington, DC for the National Hispanic week and was just barely twenty-one. I was invited by the director of the CIA to perform at the CIA headquarters auditorium. Definitely one of the most original venues I have ever played.
When do you feel like you are your most authentic self?
I'm happiest when I get to travel and share music. It has taken me to beautiful, incredible concert halls. The most memorable experience was playing a concert for Pope Benedict XVI at the Vatican in 2012. I was invited by the conductor of an orchestra from Spain.

The Pope knew about this concert, but he didn't know what was going to be on the program. When the Pope came out, he walked out on stage and sat down in the chair only a few feet away from me. I surprised him with a harp arrangement of the lullaby that his mother sang to him as a baby.

I started to play, then everybody cried. It was quite amazing to be connected to the Pope in that way and play this special music.

This year I was invited by the NFL to play for their Superbowl VIP Brunch. It was exciting to be a part of the Super Bowl. That was something that I would never have guessed or connected with the harp.
What did you personally experience when the world came to a halt in 2020?
When the pandemic began, all concerts around the world were canceled. I personally had more than 75 concerts canceled. During that time, I took advantage of my freed-up calendar to finish an album that became an incredible success! But even with the extra time to create, I was definitely overworked, and I was pushing myself to the extreme. There was the stress of all the canceled concerts and no income. With the Covid shut down, I barely made the album deadlines.

Then around Thanksgiving 2020. I was diagnosed with breast cancer. It was a huge shock. I had always lived a very healthy lifestyle. I was the last person to get a cold. I really didn't expect this. But once I was diagnosed, I found out that it was something that runs in the family and that many aunts, cousins, and relatives went through breast cancer.
Did you have any indications of not feeling 100% before the diagnosis?
About a month prior to the diagnosis, I felt a small lump that was growing fast. In just a month's time, it grew to the size of a fist. It was huge. I knew something was wrong. The doctor told me that it was a very aggressive type of cancer. One of the most aggressive, and he said, "This is not survivable. You need to start chemo now!" So, we began right away.

The week of Thanksgiving, I had to have my first chemo, but it did not go well. In fact, all through the treatments, every step of the way, I had intense side effects. The first round of chemo had deteriorated the interior lining of my stomach, my mouth, my nose, and my throat. I couldn't talk for two weeks; I could barely eat at that point. The doctor warned me that my hands could be in danger of permanent neuropathy.

With each treatment, there was a threat to my ability to ever play again. I was supposed to have six chemo treatments, but by the fifth one, I was starting to feel the tingling in my fingers. So, my doctor stopped it. I did cold wrap treatments with dry ice on my hands. It was very painful.

These were wrapped on my hands to try to preserve my fingers from getting neuropathy. They put the cold packs on my hands, around my head, and on my feet. My doctor said they had never had anyone do all three at the same time because of how intense and painful it is. What kept me going was that I wanted to play the harp. even though I did lose a lot of my hair because of the chemo, (Thank God it grows back). I think that's when it really hit me and what was happening. When I saw myself appearing differently when I looked in the mirror and it wasn't me anymore. If I had an itch on my face, I was afraid to scratch my eyebrow off.

Another challenge was that my manager had told me not to tell anybody that I was going through this, to keep it private because he believed it could affect my career. I think it was good advice. And so, I had to keep going, keeping it all a secret, as difficult as that was.

Through all the chemo and immunotherapy treatments, I was still performing every week. My relationship with my manager was on hold while I was going through this process.

These gigs were already prescheduled even before I had the chemo. I was determined to keep up all my commitments and do whatever it took to perform. And that's what I did. It was an incredible challenge. It was absolutely the most challenging and overwhelming time of my entire life.

I didn't stop, and nobody knew. At one point, I did have to wear a wig and extensions to just keep the illusion that I was still me. I was going back and forth to Los Angeles for the filming of different projects, and the makeup artists would do a beautiful job with makeup on my eyebrows. I was afraid to even wash off my face.

This was a very difficult time, but every time I put the harp on my shoulder, It would remind me why I was here on this earth. I'm here to play music; this is why I was born. This is the gift God gave me, the gift of my music, the gift of my harp. I know that it is my vocation. I would tell this to the doctor because there would be discussions of suggested operations, (they wanted to remove all of my lymph nodes at one point). When the surgeon said, "By the way, that would mean you would probably get lymphedema and never be able to play again." (Lymphedema is when the arms swell up and you can't move).

I told the surgeon, "Well, then that's not a conversation we will continue. We just don't do it." I chose a mastectomy to avoid the radiation because that could affect my muscles which would affect my fingers, my hands, and affect my ability to play. Whatever my decision was, it had to involve that I would always still be able to play the harp no matter what.
I chose quality of life. If I have to die, then I want to die playing music, playing my harp. The first surgeon didn't really get that. She was still insisting on removing all the lymph nodes. I changed surgeons to find somebody who would be sympathetic and be willing to take the chance with me. I also worked with a health/wellness coach who also was an Olympic athlete that overcame extreme health challenges. She also became my inspiration. My health coach would say, "Your harp is your 'Why'. Everybody has their 'Why'." For her, it was her son. For me, it's my music. It's what keeps us focused on the end result.

When I would put the harp down on my shoulder to play, time would stop. It would be a way God would talk to me and reassure me that he was with me. And then it was music that pulled me through it.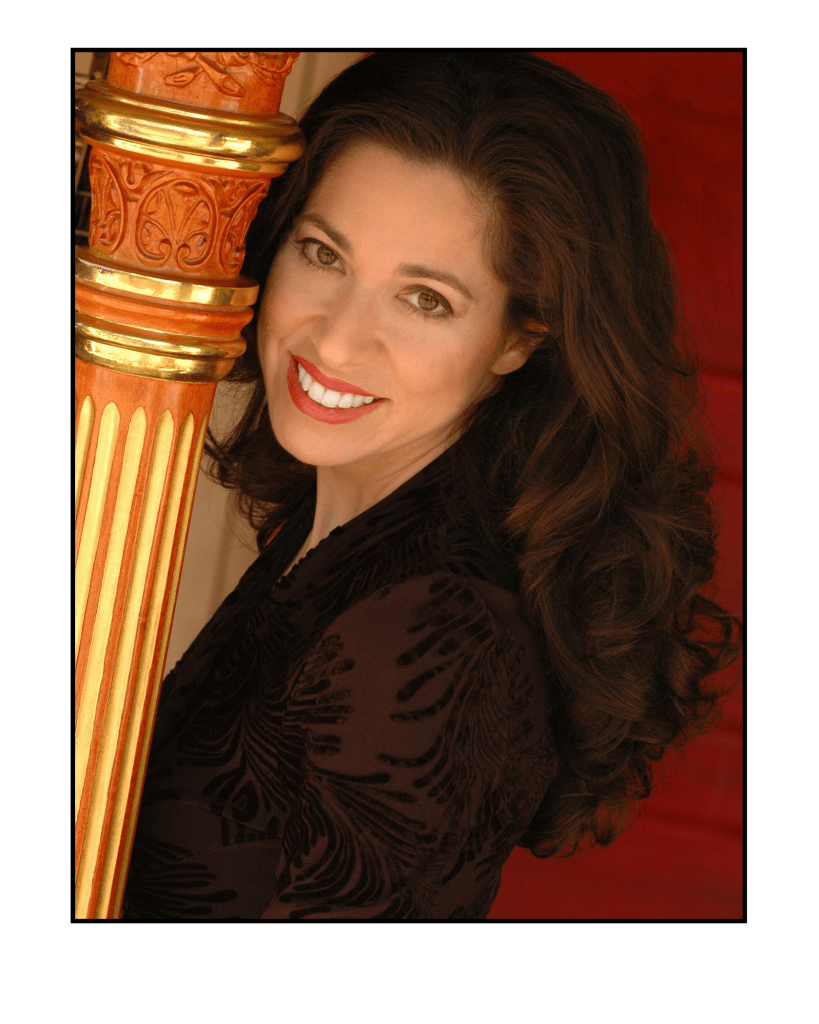 It was like adding minutes back into your life.
Exactly! It was what was giving me life. We are all given gifts, each one of us here on this planet. And I really believe that it is our responsibility to share those gifts, to share with one another, to help each other, to give back. When we are all doing that, that's what's going to uplift society. That's what's going to heal us as a community, not just individually.

Music was very much a part of saving my life. It was my lifeline, and now I'm finally cancer-free! I'm done with treatments: No more immunotherapy, no more chemo, and no radiation. I'm done with all of it! I am so happy!

I want to celebrate! I'm ready to share my experience. If this can help others, I just want to say I encourage you to stay focused on what inspires you, focused on your 'why' and what you're here on this earth for…THAT is what becomes your purpose.
And what is next for you on your music calendar?
In 2022, I'm going to be working on the next album. It's going to be a sequel to the album that was released in 2020, which was called Tango Del Cielo, (Tango of Heaven) which won many international awards. I'm going to be going on tour in Spain as the guest soloist with an orchestra in June. The recording that was completed in 2020 was an album that was with both harp and orchestra, performing Argentine Tango music and Flamenco music. Harp is the main voice; this was music that was specially composed and arranged for me, and even one of my own compositions is on the album too.
Who would you thank for being your support and inspiration in life?
That would be my father. Absolutely. My father, unfortunately, is no longer with us. He was an amazing leader. I owe him everything. He was so devoted; both of my parents were. But when I was young, he would carry the harp for me from job to job. He would drive me to my performances and jobs when I was too young to drive. He would coach me on business on how everything worked and help me understand my contracts.

When my father was faced with his illness, his cancer, he was diagnosed to only live maybe five years. I admire his courage when he said no to all the traditional treatments and took the holistic route. By doing so, he ended up living another 17 years! He was an amazing, spiritual man who defied what the doctors were expecting.
What is the best way for the readers to find and follow you?
My website is AnnaMariaMendieta.com. Or very simply HarpTango.com., I'm on all the social media platforms, either under my name, Tango Del Cielo, or Harp Tango. The album site is: TangoDelCielo.com
*
Anna Maria Mendieta, a multi award-winning harpist, enjoys a busy career as a soloist, orchestral musician, and recording artist. She has performed special concerts for royalty and dignitaries including Pope Benedict XVI, President Clinton, President Gorbachev, and the King & Queen of Spain, and concerts with Andrea Bocelli, Josh Groban, and Frank Sinatra Jr. among others. Her latest album Tango Del Cielo won nine international awards including four Global Music Awards and reached #2 on Billboard's Top Ten Classical Crossover Chart.