An Interview with Kat Mische Elle
Envogue Stylist, Traci Jeske is a famous international personal stylist whose expertise involves styling women of all ages, situations, and stages of life. Her styling genius not only adds a new flair to your closet, but she also has an eye for assisting your healing journey while you are up-leveling your wardrobe.
Traci, tell me about yourself and where your inspiration for clothing and style began?
I am an international personal stylist and an Italy style icon. I love helping women at every age, from the early, self-discovering years of youth to the forty and wiser era for women unapologetically living and creating their most beautiful and stylish second act in life. I want women to stand out in a crowd, feel good, look fabulous, and be bold while doing so.
I was born and raised in a very small town called Red Deer in Alberta, Canada. Most of the memories I have seem to be of living in negative forty-degree weather. With most of my childhood being indoors due to long stretches of winter, I developed a world in my bedroom and entertained by playing dress-up for myself and for my dolls. My favorite doll had pink hair, and I believe that is where my inspiration for having pink hair came from. I began seeing and developing a relationship with clothes and how they could all be wildly interchangeable and become complementary and supportive of each other when brought together.
At first, this entertained me, but eventually, styling clothes evolved into becoming a part of my voice when my life was shrouded in whispers to protect a broken part of me as a young girl.
I realized when I was ten years old that I was going to dress people in pretty clothes when I was older. I didn't know what that meant, I had no clue, but I realized it already at a young age.
As I hit puberty, I couldn't deal with my body. I was terribly insecure with my appearance and so, I turned to clothes to rescue me.
During high school, my clothing choices and style were always a way for me to express myself and hide at the same time. I quickly stood out in a crowd with my outfits and that's when I realized the power of clothing.
I never followed the status quo. I always made my style have a twist to it. That was the era of Madonna. I loved her style and daring nature. Being creative with clothes energized me! There was no way that I would let myself wear the same outfit twice. I always made sure I went through my closet, and I mixed and matched as best as I could. Even if I just added accessories to it, just as long as it was not exactly the same outfit as before. That was important to me. As insecure as I was, my clothing became my armor. What I wore gave me the courage to walk into a room and have people be dazzled by the display and not feel the need to go further into investigating 'Traci.'
I was very thin growing up, my family and friends called me bones. But when I hit puberty, I put on extra weight, and I didn't like seeing myself like that either.
You could never pay me to go back to that period of my life, but it helped me be the woman I am today.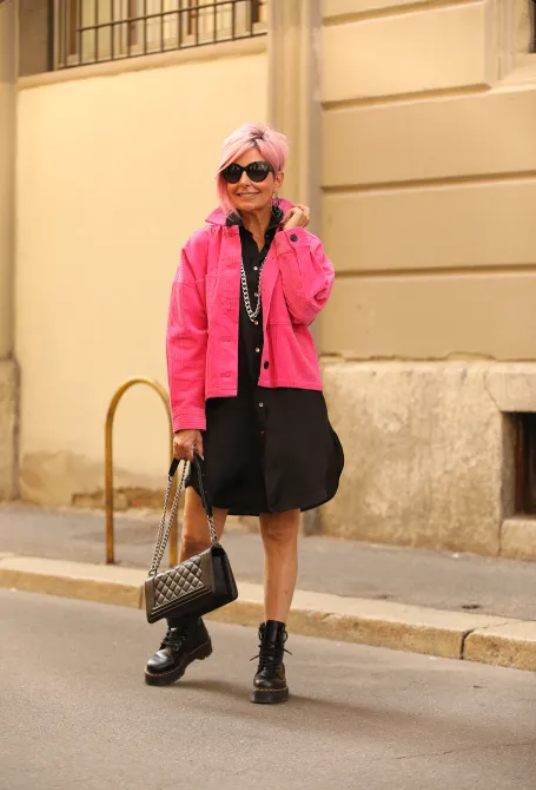 After high school, I went to university, and those were the darkest years of my life. I wasn't good at school; it was a huge struggle for me. And in that period, I developed an eating disorder, which followed me for more than 20 years of my life.
In that same first year of college, the GAP clothing store came to Canada. The GAP was in every Seventeen Magazine, showing all the American girls and boys wearing that fashion. I wanted to work there, so I applied. I was called back for an interview, and I got the job!
This was the beginning of my next chapter. I was obsessed with being in this environment of people and clothes. Every time my eyes focused on a person as they walked through the store, I would start to style them in my mind. The part I loved most was the fitting rooms. I absolutely loved helping people transform themselves. And I saw it in them immediately.
I'm very sensitive, and I feed off other people's emotions. When looked into their eyes and saw the happy tears start to form with their big smiles, I knew that I helped them be seen and heard. This was no longer a job at a retail store. This was helping facilitate a shift in people. I said to myself, "This, this is what I want to do. I want to see people smile."
I would see customers come in sad or frustrated because their girlfriend or boyfriend broke up with them, they gained weight, lost too much weight, struggling with the passing of a loved one, were nervous about an event coming up, or whatever it was. By the time that person was finished letting me help them bring out that inner shine of theirs to match the surface I had styled them with, that person would say, "I want your number, I want to come back, I want you to help me, I want you to style me always."
Not long after I started college and began working at the GAP, my father passed away; I was 22. I then told my mother that I was going to quit my job and school and that I was moving to Australia. I didn't have a plan or know anyone there, but I felt the need to expand and explore. I decided that the worst thing that could happen is I might not like it, and I could just fly back home. A month later, I was in Australia. I quickly found a job that was also in the fashion industry. Even though I was still battling with my eating disorder, it was one of the happiest experiences of my life. I felt strong and capable of anything. My eating disorder never stopped me from doing what I wanted to do. I never gave it that power.
After four years in Australia, I began considering my next destination. During the time of pondering that next leap, I met a man who would one day be my husband. This incredible Italian man swept me off my feet, and the decision was simple. I then left Australia and moved to Italy.
Living in Italy strengthened my relationship to a new level with styling clothes. I moved to this new country, and I couldn't speak the language. I literally couldn't communicate with anyone on my own, and I felt invisible. My husband had to speak for me wherever I went, and I started to feel like I lost who I had become.
I began to see myself disappear along with my goals and dreams. People didn't talk to me; they just walked by me. I realized that I was going to sink if I didn't choose to swim, and I had to use what I knew best.
I thought, "How can I get people to see me and hear me?" So, I upped the artistic expression in my style even more. And then people started to notice me again.
So, where you didn't have the ability to express yourself with language, you let your clothes be your translator?
Exactly! When I started to take my style to the next level, even more than what I had before, people would stop me and start talking to me. Italian women would come up to me, and they would speak in either Italian or in their bad English. I did my best with my horrible Italian, but we would begin a connection.
That is how I began to create my tribe in Italy, and I reinvented myself and my life once again. It felt extremely powerful. The best way to describe the experience is from Rachel Zoe's quote, "Fashion is a way to say who you are without saying a word."
I was having experiences where women were intrigued, and they started to approach me to strike up conversations. And that's when the light bulb went off in my head—again—about style and what I wanted to do.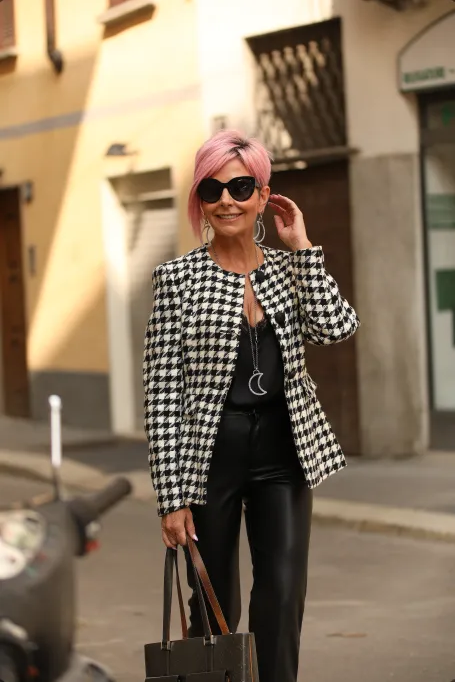 This calling was to be independently styling for a living? No longer on the floor of a retail shop or clothing outlet?
Yes. Women were offering to take me to lunch or pay me for my time consulting and styling them for the day. I was giving them advice and guidance with clothing ideas for events and day-to-day wear for what would work on them best. These women were excited about my vision for putting their clothes together, and they were willing to pay me for it!
This was also the time I began realizing that the experience of my eating disorder gave me a keen eye for those who were also struggling emotionally and having challenges with their body image. I was able to pick up on it easily. I saw when women were struggling with the same problems I had gone through. They were playing small; they were hiding. They didn't want to be noticed. But at the same time desperately wanting to be seen. These women were unhappy with where they were; they wanted to change. Women who were aging also felt like they had no right to have a light shined upon them or be heard.
I knew I was the expert on helping someone dress in a way that they could still love themselves when they were out in the world, while they are still on their healing path for whatever personal journey they were on.
I believe that every woman wants to feel beautiful regardless of fashion trends. When fabric and design are draped on the body the right way, it can be magic. It doesn't matter whose name is on the label. Everything can change in a moment. When you positively shift someone's emotional vibration inside, you already start the progression of other aspects in their life to also move in that direction. I have witnessed it countless times in my career.
By acknowledging your creative genius being a stylist, did it help save your life while you were discovering your truth?
Yes, definitely.
It's obvious that your artistic calling really was your internal support system.
Absolutely.
When were you able to heal the eating disorder?
The relationship I had with the disorder disappeared when this calling for me to get my voice out into the world took its place. The desire became bigger than the eating disorder ever was. This is when my relationship with God began, I gave up all my fears and insecurities to him and I stopped binging and purging. He helped me connect to the part of me that was destined for the path of healing and lifting of others.
I said to God, "Please show me, tell me what I have to do." I didn't hear him; some people hear him. But I knew that the fact I recovered so quickly was Him saying to me, "Don't waste any more time. I've given you this chance, go!" So, that's what I did. And I never looked back.
With the eating disorder behind you, how has your eye for style been enhanced from that experience?
I saw even more through the eyes of love when I saw women hurting. I viewed clothing on a totally different level. When I gave up that battle, my chains were broken, and everything came to me with much more ease and grace. When clients just simply needed to feel good again, I had more strength for pure support rather than quietly commiserating with them.
How has your career evolved over the years?
Today, I have clients all over the world, and I truly work with the most amazing people!
So, with your connection to style, it's obvious it went from the energy of armor to embrace.
Yes, still is to this day.
What has changed for you since 2020?
More color! I have brought more color to my life and wardrobe than ever before. During that year, from March until June 2020, we couldn't walk out of our house. I couldn't even take my dog for a walk. I didn't realize how much I took for granted every day, the colors that I was used to seeing throughout my day.
That is also when I came out wearing pink hair. I thrive on enhancing my vibrancy every day. I have experienced a lot of critics out there about my having pink hair at my age, and I really couldn't care less. I do what makes me happy. My voice has gotten louder, and my cause has become bigger since the experience of the lockdown.
I believe that a woman goes through a 'new normal' shift for herself every three to five years. What do you think?
I totally agree with that.
We know that in life's journey, we're constantly evolving and changing, and it usually involves taking risks. And the rush of the fear is literally what keeps me alive sometimes. I've learned to embrace it. It used to be something that I didn't want to go near. Now, it's one of the connections I have to feeling alive. Fear has always led me on a positive path to the right place for awesome change.
What are the top five things that can help put women back on track for coming out of a fashion slump?
First thing, you must go into your wardrobe and do a detox. You need to get rid of anything that doesn't fit you, that's soiled or torn, and things that you haven't worn over the past year and a half. You need to let go of all those.
Then the second thing: you must understand who you want to be when you show up!
You're evolving and changing. So, whatever you're wearing now no longer suits the future you that you are wanting to move towards. Decide on the person you want to be when you have the light shined upon you.
Find who you admire and move in that direction. You don't copy them, but you get inspiration from their choices.
Third thing: add color! When you're in a slump, often it's also because you don't have the colors you love. So, add color! Be daring with the infinite color palette that is available to us out there in the world! Whatever color lights you up, add it to your wardrobe.
Also, accessorize. Busy women forget to accessorize. I never go out without earrings, bracelets, and a necklace. It can make or break an outfit.
Who are your inspirational influences in your life?
My mother. My mother is my inspiration. She's 91. She still dresses like she's going to a red carpet, even if she's staying at home. She is just someone who has such a joy for life. She had six kids. And back in those days, you didn't take your kids to the nursery. You kept your kids at home with you. I had so much fun in my childhood with her. She lost my father when she was 63, and she never remarried. She showed me how to love life, and she just wants me to be happy. If I fall, she's there to tell me how wonderful I am, how amazing I did, and to just keep going. She is my number one fan.
How can the readers find and follow you?
You can find me on Instagram @TraciJeskeofficial. My website is www.envoguestylist.com. Or on Facebook at Traci Jeske. I also have a show developing in the works. I will keep everyone posted on its development before it launches.
Traci Jeske is a famous international personal stylist whose expertise involves styling women of all ages, situations, and stages of life. Her styling genius not only adds a new flair to your closet, but she also has an eye for assisting your healing journey while you are up-leveling your wardrobe.