An Interview with Kat Mische Elle
In the world of Baja off-road racing, she's known as the Iron Woman. Kristen Matlock is a fighter, a competitor, and in races like the Baja 500 or 1000, there's no sharing the driver's seat. She's up for it. That passion for off-road racing, that energy she has to compete for over 20 consecutive hours at a time, comes from her willpower, and her husband, Wayne, who introduced her to this world.
Where are you from and what was your childhood like?
I was born and raised an only child in San Diego, and never left. Growing up, I tried everything involving the outdoors, adventure, and athletics. My parents always encouraged me to go after what I was interested in, so I tried every single type of dancing, figure skating, and roller skating, gymnastics, cheerleading, and horse riding; nothing ever stuck or struck my passion. I loved school and was good at it; I took advanced placement math classes for fun but wanted to find my extracurricular focus.
When I was sixteen, I went camping with my friends out in our local deserts in El Centro and Yuma, Arizona. It was an incredible place to ride off-road vehicles. When I started going with them on these trips, I found myself surrounded by motorcycles, ATVs, and dune buggies. And I was instantly drawn to the power of "desert toys."
My first desert experience was breathtaking because I had driven past the dunes before on my way to other destinations but never stopped to walk among them. Stepping into that sand for the first time felt like a beach without water. It was a unique experience so many miles away from the shoreline, and I was playing in what was once the bottom of the ocean. A great reality check.
As soon as I graduated high school, I became a registered nurse. I was twenty when I met Wayne (my husband) at a campfire one night on a desert camping trip with friends. I had stayed back one evening nursing a broken wrist from my ride earlier that day, and he decided to keep me company as our friends went for a night desert ride, and we have been together ever since.
Wayne grew up exposed to off-road racing through his father, who raced motorcycles, three-wheelers, and ATVs, and taught Wayne everything he knew.
As Wayne was just getting started in the sport at the age of 23, I supported him in the early 2000s by becoming his team manager.
In 2004 for Christmas, my husband bought me an ATV because he saw my desire to get out and ride. I finally had been stricken with passion for something.
When did you realize you wanted to race?
The thought came to me while watching Wayne at his races. With his guidance, I practiced and improved my skills. I thought, "I'm getting good enough to probably race one of the smaller or the local races."
What year did you have your first race?
It was the winter desert season of 2005 when I entered my first race against the men. I just wanted to see if I could survive it the first time. I placed second in the class I entered and had the time of my life. I was hooked.
When I first started racing, it was a very male-dominated sport.
In my next race, out of 150 people who entered, I was the only woman on an ATV in my class. I placed again!
I was now officially hooked! And race after race, I began to notice that the more time I spent out in the lineup, I saw other women on the sidelines witnessing what I was doing.
Within six months to a year later, it seemed like I had inspired some other women to get out there and give it a try.
Observing this lit a fire under me. Honestly, to this day, that's what inspires me to go out and be the best I can be on the racecourse.
A lot of it for me is to prove to other women, no matter what age, that they could get out there and do it just the same as me. I started a racing career, what I consider to be "later in life," starting in a new discipline at 20. To me, that's old compared to others who had been trained and conditioned for the sport since they were kids.
What was the transition like from racing ATVs to UTVs?
By 2015, the ATV market and craze began to dwindle but at the same time, the brands were bringing in a new vehicle called a UTV.
During this time, my husband and I decided to become an officially registered team, Matlock Racing.
We spent the first ten years of our relationship in the world of offroad racing, so we decided to pursue it differently.
We were currently with Honda at the time on ATVs. My husband raced for Honda professionally for eight years, then decided to expand and approach Polaris RZR, a huge brand.
When we pitched Polaris, they told us regardless of our accomplishments, background, or history, we would have to prove to them that he could get out there and do the same level of racing on UTVs before they signed him on as a factory driver.
I returned to my position as manager and team supporter, and drove the truck down in Baja with our yellow lab, Whiskey, by my side. Most of the time, it was just the dog and me chasing my husband through Baja.
After my husband won the overall for the Baja 500 and the Baja 1000 with the UTV, we went back to Polaris. They were interested in signing with us.
During our meeting, I caught their attention with my racing history. They knew I had five women's championships in our local desert on ATVs but didn't have experience with UTVs at all.
I never imagined that I would end up behind the wheel of one of them.
Polaris decided to sign my husband and me into a factory-supported program they had, and I was completely blown away and ecstatic.
I have now been with Polaris RZR for eight years.
In 2016 when I started racing UTVs, I was one of the first woman in Baja at any of the Baja races. The one that I'm most proud of is the Iron Woman for the Baja 1000, the first one in history in a four-wheel offroad vehicle. I'm the first woman to have accomplished this.
I have yet to win the UTV overall in the Baja 1000. That is my ultimate goal for this year in November.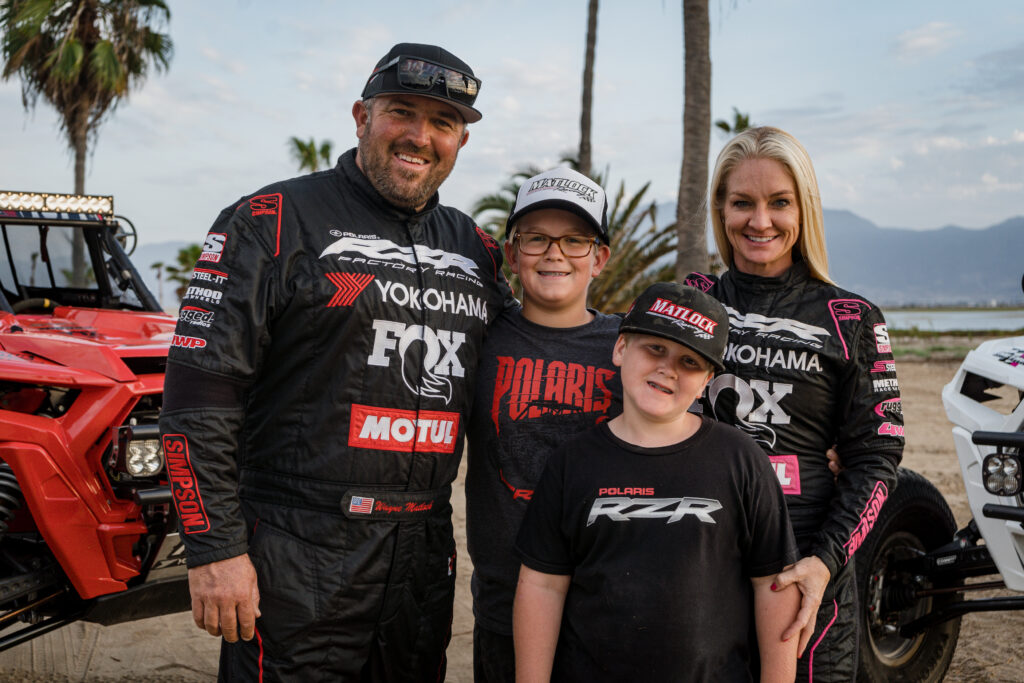 With the demands of a racing lifestyle, how were you able to factor in motherhood?
While racing ATVs from 2005 to 2015, I wanted to take some time off to have children. During that time frame, I had two boys. I had the first one in 2009, and within two months I was back on the ATV because I figured what better exercise than getting right back at it.
Then two years later, unaware of being pregnant, I raced when I was four months along. I immediately stopped once I knew, and I had my second son that year. Both boys have racing in their blood! They are constantly increasing their skill levels and already have impressive racing styles.
Do you ever hear them say I want to be just like mom?
Yes, they are my number one fans by far next to my husband and family. I have so much support, and the racing life is a family affair for us.
What are you involved with that gives back to the community?
Every summer I organize a ride to a local orphanage in Baja, Mexico. We take about 80 attendees with us, and I gather whatever that orphanage may need before we begin the adventure.
We show up to the orphanage on a Saturday, taking every single orphan in our off-road vehicles for rides. That is the highlight for all of us on the ride. When you look around, everyone is smiling from ear to ear.
We used to do this ride for fun, and then one day, I asked myself, what can we possibly do to improve this experience and give back to Baja? I thought, "There's got to be something we can do on this extra day to help benefit and give back." From that day forward it also became a part of our lives.
What are your racing plans for the rest of 2023?
I have five races this year. Four of those are in the "The Score Baja" series. The San Felipe 250 (the season opener in March), the Baja 500 in June, the Baja 400 in September, and the Baja 1000 in November. Each event has a number attached to the title for the miles to race.
How do you stay focused and on track in life?
I often look for God's answers. I look for a sign from him. I will talk to him during the races because our races are very long. This past year at the Baja 1000 was the first time I ever experienced one of my deep conversations with Him.
I had a rough race because about a hundred miles into the race, I spiked a fever of 102 degrees. I was only a couple of hours in, and I had to run for 25 total hours at that event. I had to push myself further than I ever have in my life.
I was pushing beyond my limits, but I have that determination and desire to never give up. I couldn't let my team down. I couldn't let the co-driver sitting next to me down or myself and the fans out there. I was looking for some motivation and support throughout the entire race. Along with the support of my team on my headset, I talked to God, and I made it through.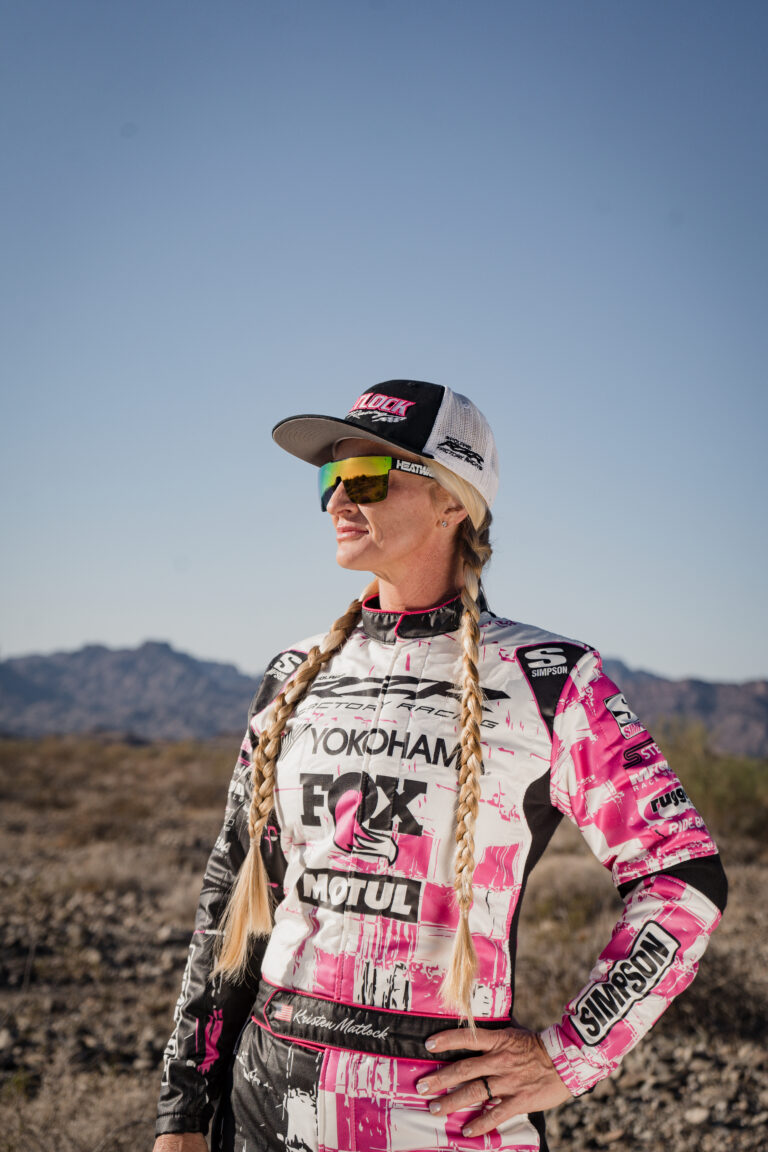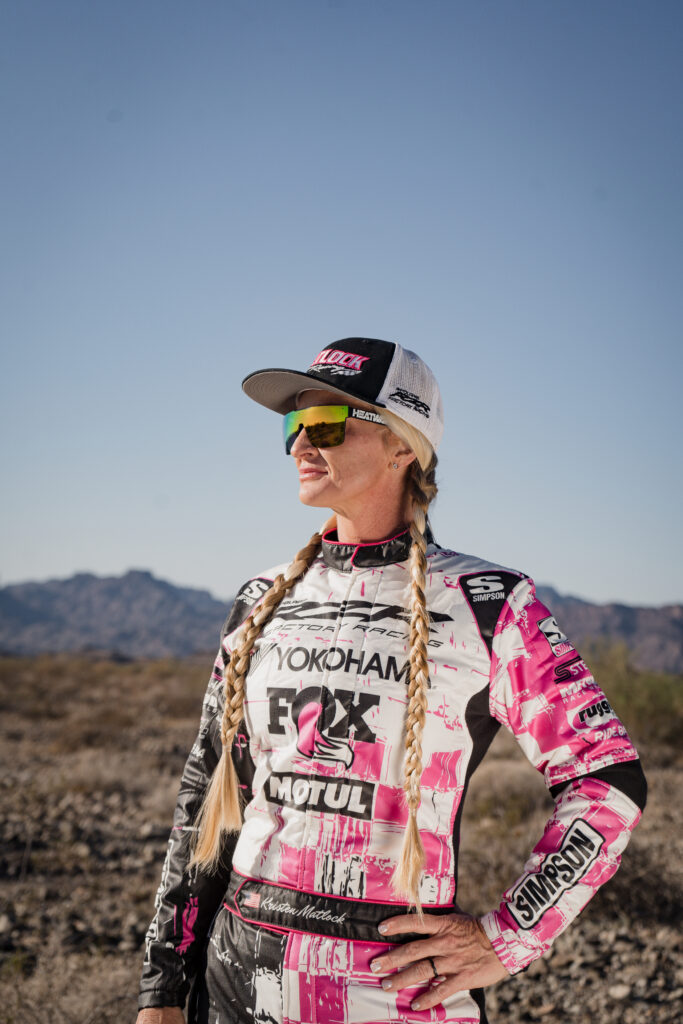 Who would you thank for your successes?
Everyone on our team deserves the recognition that I deserve just the same. Every time I get up on that stage, I always like to thank our crew, our mechanics, the guy sitting next to me (which would be my co-driver at the time). I'm grateful for all the support from family, including our two boys who are always cheering us on. I can see in my sons' eyes that they want to do this someday. They truly believe in us, and we inspire them just like they have inspired my husband and I. For the beginning of it all, My husband Wayne. He has always been my pillar of support and encouragement as I propelled forward in life.
What is the best way for people to find and follow you?
Instagram @KristenMatlock, and my Facebook, it is Kristen Matlock Racing.