An Interview with Kat Mische Elle
At sixteen years old, Mikalah Gordon became the youngest top 12 contestant on American Idol. She went on to host "American Idol Extra" and the Tyra Banks show. Proving she could do it all, Mikalah showed off her acting chops where she starred in "Living with Fran" with Fran Drescher, and "The Unit" on CBS. Having a knack for comedy, Mikalah began her stand up career in 2015 and found social media fame by impersonating Melania Trump in the height of the pandemic where she gained 1.6 million followers on TikTok. She is a member of the LGBTQ community and was the host for the first national LGBTQ morning show for four years on Channel Q. Mikalah released her first album in September, where she used it to advocate for women's rights, mental health, and the LGBTIQ community. You can catch Mikalah every Friday at 8/7 central on the CW where she corresponds for season three of "Worlds Funniest Animals". You can also listen to her new podcast "So Funny, It Hurts" where she interviews your favorite funny people, and explores the trauma that made them that way, as she advocates for mental health.
Mikalah, what led you to where you are today?
My father was a jazz musician whose inspiration truly shaped me to love music. Knowing what I wanted to be was a huge part of my identity. I knew I wanted to be a singer. I grew up with a single mom and experienced a complicated, dysfunctional youth. Not something I would ever take back, but I genuinely believe it made me who I am today. It allowed me to share the stories, have empathy, write my album, and gave me the drive that ultimately led me to audition for American Idol. I was a fearless 16-year-old wanting to get out. American Idol led me on an incredible journey of highs, lots of lows, and a lifetime of great memories.
What main events and supportive highlights helped to shape your future?
I was very sad about being laid off from the morning show that I loved and had hosted for five years. I could have said, "Oh my God, I'm devastated, or, this is an amazing opportunity!" The universe works like a vacuum, taking away something to allow something new. I chose to go with this amazing opportunity. It has taken a long while to like myself. I still battle with self-worth issues, but for the most part, I can look in the mirror and say I love my resilience, tenacity, hard work, capability to do things, and ability to step back and relax. I was raised without any expectations. I had to get through the lower light issues and make an opening for empathy, to be a well-rounded human being with morals, authenticity, honesty, and values. Blessings are meant to be.
Which parent are you more similar to?
The love of music and perseverance are traits that I share with my dad. I attempt new things despite my anxiety and fears. At 62, he went back to college to get a degree in jazz because it was important to him. He didn't let age get in the way. He's living on his terms, and I admire him for that.
And what characteristics do you admire and take on from your mother?
She and I are similar in many ways, even though we haven't always seen eye-to-eye. One thing she instilled in me was that anything is possible. She dove into spirituality books; I enjoyed reading them from a young age. She was this witchy, gypsy woman who reminded me of Stevie Nicks; I thought she was fabulous.
How much strength and success have you gained from taking chances on yourself?
There are many answers because it was a long road after American Idol. It was the first time I couldn't control what was happening based on my personality. Even though I dealt with eating disorders and harsh message boards from the audience, I just wouldn't quit on myself. I couldn't. I must always take care of myself and not let myself down.
What is one of the most difficult things you have experienced during your climb to fame?
I've never discussed this publicly, which is still very difficult. On American Idol, you needed a chaperone, mine was supposed to be a woman my mother was dating, but she was a drug addict. She loved me, and I loved her. I've never been judgmental about their drug use. I was raised by her and my mother and believed they were some of the most sensitive people just trying to self-medicate. But she was supposed to be my guardian and died of a drug overdose the day before I left for American Idol. My mom was getting help at a mental facility and had to leave the facility to be my guardian on American Idol.
We were kind of a mess; I was grieving her partner, who was supposed to also take care of me, and I was grieving a parent trying to get her anxiety and depression in order while we were in the spotlight. I was grieving being sexually assaulted at 14 and the message boards of American Idol calling me horrific names. It was a lot for a 16-year-old to bear. After the show, I didn't sing for years because I felt like I was so harshly criticized.
How has that experience strengthened you?
I'm in a place where I believe these things need to be talked about by other 16-year-olds. You don't know what people are experiencing behind closed doors. You just have to be kind, even if you don't understand. It takes nothing to be kind and smile. I was in a dark place, and I was romanticizing suicide. I'm not looking for sympathy, but I want to share that people need to understand that there are many layers to people, and you have to meet them where they are.
It's difficult to feel lonely in such a big world. Had I shared my story, I might not have felt so alone. I am sharing it now to say,
"If you're reading this, you are not alone. And if you choose not to share anything that's ever happened to you and just want to use me as an example, you're not alone. I hope this brings you some sort of comfort. The comfort I feel like I desperately needed so many years ago. I know that feeling. And I love you."
What supportive advice and guidance would you offer to emotionally struggling teens, and women around self-acceptance?
Therapy helped me more than anything. The stigma around going to therapy is heavy, especially growing up in an Italian family where you were told not to cry or feel. Professionals know how to guide others through these situations. I asked for a lot of help. I'm not afraid to ask for help with anything, help from my friends, or help from my family. It makes other people feel good to help. It's a gift for both sides to ask for help because people who care about you also want to be there to give support.
What are your efforts currently advocating for?
I made an album and named it after my Grandma Vivian. The most important song is "Hands Off," where I opened up about being sexually abused. I also made a music video depicting all types of women who were abuse survivors. This music video gives them the voice they also deserve to have. The biggest thing I learned is that I was tired of holding a secret when I hadn't done anything wrong.
I advocate for women and men who have been sexually abused. A percentage of the proceeds from my album went to support Planned Parenthood because they are, first and foremost, about quality, affordable health care!
I spend a lot of time researching the aspects of depression and anxiety, and I know there are cures. I've recently dove into the applications of therapeutic psychedelics and understanding how they can help repair the brain's neural net from trauma. My heart also lies with the #MeToo movement and mental health awareness.
What is the most exciting news coming into your life this year?
After eight years, I'm engaged and thrilled about it.
Will you let yourself enjoy being a fiancé for a bit?
I'm so excited. Everyone wants to know if there's a date, but I refuse to fall into the pressure trap. I want to continue to enjoy being in love.
And you are marrying your best friend?
Yes, I'm marrying my best friend, family, and person. I'm moving into my family, Lisa is my family, and we're going to create our own family that is loving, healthy, and functional. We go to therapy, and we know how to ask for help. We are strong, and I am happy.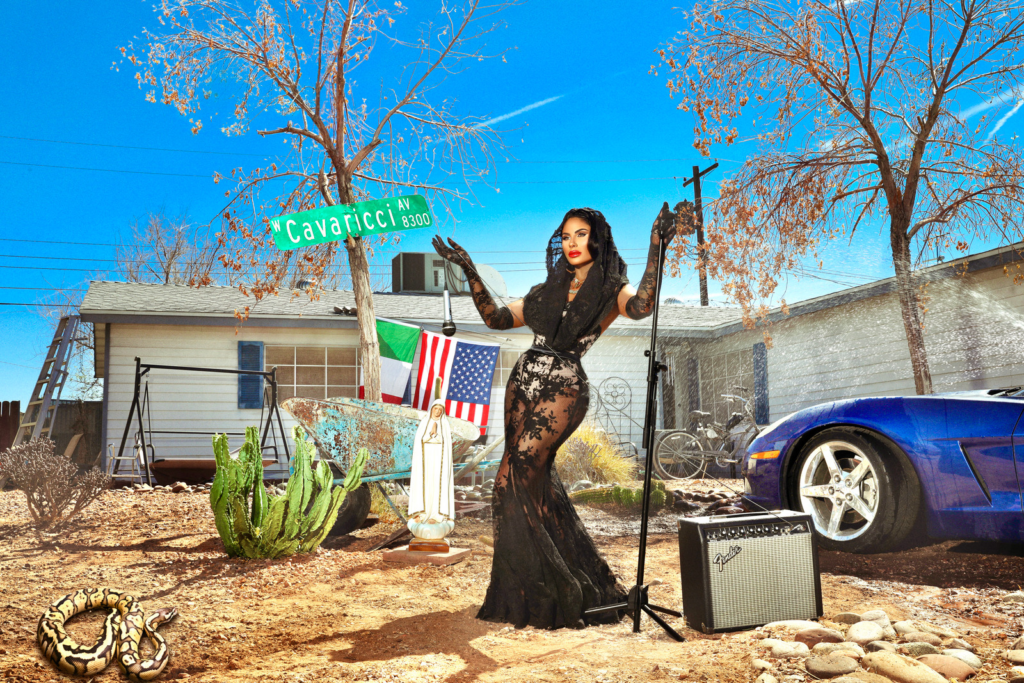 What else are you planning for the rest of the year?
I'm excited about 2023. I am doing a rebrand. I love singing and comedy, but I want to start having real conversations about all of the trauma I went through in a relatable way, with a lot of dark humor, because that's my brand. I'm excited to announce that I now have a podcast I just launched called "So Funny, it Hurts," where we talk about the trauma that made us funny and the steps we've taken to heal.
Growing up, I was the funniest girl because I was the saddest girl. I needed to laugh and find ways to feel lifted, and I liked to make others laugh. I want the podcast to be a humorous way to know you're not alone.
What advice would you give to your younger self?
When I check in with myself, I always ask, "What would my 16-year-old self do?" That is when I was the most determined in my spirit to escape from the life I was living. That's literally how I have lived my entire life. My work is better when I do that. I think a lot of people are motivated by their children. I'm motivated by my inner child because I don't have children yet.
Who have you looked up to the most in your life for inspiration?
Specifically Barbra Streisand. She is a funny girl, you could see she was in so much pain, but she was funny, adorable, likable, and lovable. And Dolly Parton also had major traumas but never talked about it until recently. She's brilliant.
Dolly and Barbra are my girls.
How can we keep tabs on your next greatest upcoming creations this year?
You can find me on social media at Mikalah Gordon or my website MikalahGordon.com.