An Interview with Kat Mische Elle

Paige Alms is a trailblazer in promoting the advancement of women's surfing, and has worked to bring more attention and recognition to female surfers. Recognized as one of Maui's "token" female big wave surfers, she currently resides in Haiku, just minutes away from Pe'ahi (aka Jaws).
Her career has been full of conquering giant waves and dominating titles, including her 3 Pe'ahi Challenge wins, 2 World Surf League (WSL) Big Wave world titles, and recently for the Red Bull Magnitude Best Paddle and Best Ride of the Season in Hawaii at Jaws in 2022. This year in January 2023, she was one of the first women to compete in The Eddie Aikau Big Wave Invitational, a big wave surfing tournament, where she had the highest heat total and best ride of the women.
Paige, can you share about your upbringing and background?
I was born and lived my youngest years in Victoria, British Columbia, Canada. I had a free-spirited childhood. My mom and I left BC when I was seven and a half years old.
It was my mom's dream to travel around Australia, so she sold the house I grew up in, and we packed everything into storage and headed off to Australia, just my mom and me.
We ended up traveling the whole country for almost ten months; it was quite an experience! Australia welcomes travelers. Almost every single town has a campground, allowing us to live out of a van for our entire adventure. Our life was full of camping and visiting my mom's friends, but mostly it was just the two of us. These memorable and formative experiences stuck with me and inspired me to seek more adventure.
Throughout our travels, we always visited Maui once or twice a year since I was born. My aunt and uncle lived in Maui so on our way to Australia, we stopped there to visit. On our way back to Canada, we made one last hop to Hawaii and we decided to stay and make it our home.
What were you doing for school during that time?
I was always ahead in school, so I didn't do nearly as much schoolwork as I should have during that year in Australia. I was reading and studying math the whole time we traveled, but it wasn't necessarily a program. I enjoyed math and reading at that age, so it was something I did whether I was in school or not.
When we finally decided to settle in Hawaii, I was still ahead of my classmates. I was 9 then, in the fourth grade, and spent most of my free time at the beach.
I felt confident and comfortable in the ocean, I was a good swimmer. I started playing on my boogie board at my local home break, Ho'okipa, to try to stand up on it; I spent about a year learning the currents. One day my auntie gave me a surfboard to play around with, and before I knew it, I learned how to surf; I continue to surf there every day.
When did you move from play to competition?
I did my first surf contest at ten years old on Maui at Launiupoko Beach Park. I surfed with a team and started to build great relationships. The surf was small, and I placed third. But the competition–I loved everything about it! I was very competitive and determined to get better, I think that helped guide me.
As a kid growing up, I was entering surf events around Maui and the Hawaiian Islands nonstop. In my teenage years, I was entering contests about twice a month.
The contests were something that I looked forward to, and were very important to me at that age. They pushed me toward bigger goals after each one.
By the age of 18, I moved into my professional career where I was competing in events around the world and on a tour schedule.
That path led me to becoming a professional big-wave surfer competing in one or two events each year.
Where in the world has your career enabled you to travel?
I have been able to travel all over the world. Some of the events I've competed in were in Australia, North and South America, and Mexico. I have been to Fiji a bunch of times, and to South Africa which is the furthest I've been from Hawaii.
What is something unique that your career has given you?
I had an opportunity to be in a documentary film called "The Wave I Ride." I also was featured in a short film, "Paige" with the Patagonia company.
Who has inspired you or has been your mentor?
My mom. She has always been my backbone, guiding me in everything I do. Anyone who knows my mom knows her power. I am so grateful for her.
There have also been a handful of people who have helped me see my path, including surfboard shaper Chris Vandervoort. Chris was a huge influence in getting me to ride bigger waves. He was tough on me in a way that pushed me to be my best.
Chris believed in me, that I had good wave selection and knowledge of the ocean. Chris was instrumental in getting me into and showing me what big waves were by taking me out for my first big wave paddle session at an outer reef here on Maui when I was 15.
I'm also constantly inspired by the people around me who are my peers and have pushed me to be a better surfer.
What competition have you entered that makes you the proudest?
Until 2016, all of the big wave events that had been held worldwide were only for men, and I would watch the contest take place wondering why women weren't included.
For almost 15 years before 2016, women surfers had to stand up and use their voices to be included. Finally, someone was listening and we were invited to be a part of the events at Jaws
This was exciting because there were a handful of us who had been surfing there alongside the guys for many years. That first year being allowed in these competitions was really special, especially because I won the event.
It came with mixed emotions though, the guys had multiple events, and we only participated in one event at Jaws, but it was still a turning point, moving in a more accepted direction for the sport.
Do you feel out of balance when you are out of the ocean?
Yes! I just truly love surfing, and I love being in and around the water. If I go on a trip and I'm away from the ocean, I feel a little bit off. Growing up here in Maui, surrounded by the Pacific Ocean, I feel a huge connection to the water. And I mean, all of us are made up of salt water. So, I feel like when I'm in it, I truly feel at peace and just connected to my part in this world. I don't know how else to describe it, but I feel like my true self, whether it's surfing or just lying in a shallow ocean pond.
Taking a step back and looking at the ocean, I know it has given me my career. It's given me the house I live in and all the amazing friends around my family. I feel like Mother Nature and the ocean has supported me. And with that, I feel responsible for doing my part to help give back by helping to create more awareness of the impact we are all having on our lands and oceans.
Where are you putting your time into environmental awareness?
I started a program called the Trashy Selfie Project with my friend Sarah Houser. We created an Instagram challenge to get both adults and kids involved in picking up trash at their local beaches, parks, and local environment.
Many of my sponsors became involved to help reward kids for doing their Trashy Selfies. It's a positive way to encourage responsibility in all of us to be aware of our surroundings and if you see trash on the ground, to pick it up, even if it isn't yours.
I have also fallen in love with regenerative farming! I'm currently in the middle of taking a permaculture course, it fulfills my being down to the core. Being a part of this gives me the same feeling as surfing and riding big waves.
What is the importance of doing what you love?
If you're doing something you love, I think it's important to share your experiences and inspire others to do the same.
I'm also inspired by the Maui Huliau Foundation, it is an incredible nonprofit that my friend Malia Cahill supports. It's a great youth program that promotes environmental literacy and leadership.
The foundation encourages kids to get involved in making change, through filmmaking clubs, after-school programs, and in-school programs for kids from all around the island. They're learning how to use cameras and share stories through independent films. The films are related to ocean protection or ecosystem resilience; informative environmental film projects that are rad – for kids to see and not just talk about our problems but putting their words into action for solutions.
What supportive advice would you give to young kids, especially girls who want to pursue their curiosity about riding waves?
If I were to go back and give myself advice, I would want to remember advice I was told by my mom, "to set goals and believe in your dreams."
Anything is possible. If you focus on putting your mindset and hard work toward your goals and your dreams. Nothing can stop you if you truly believe in yourself!
Be dedicated to achieving your goals. No dream is too big.
You only live this one life. If you're living and doing something that you don't truly love, then what's the point?
If something makes your soul glow and you feel a true passion for it, you must follow that.
Where will your ambitions lead you this year?
This year I am hoping to catch the biggest wave that I've ever ridden and also experience a giant Jaws barrel.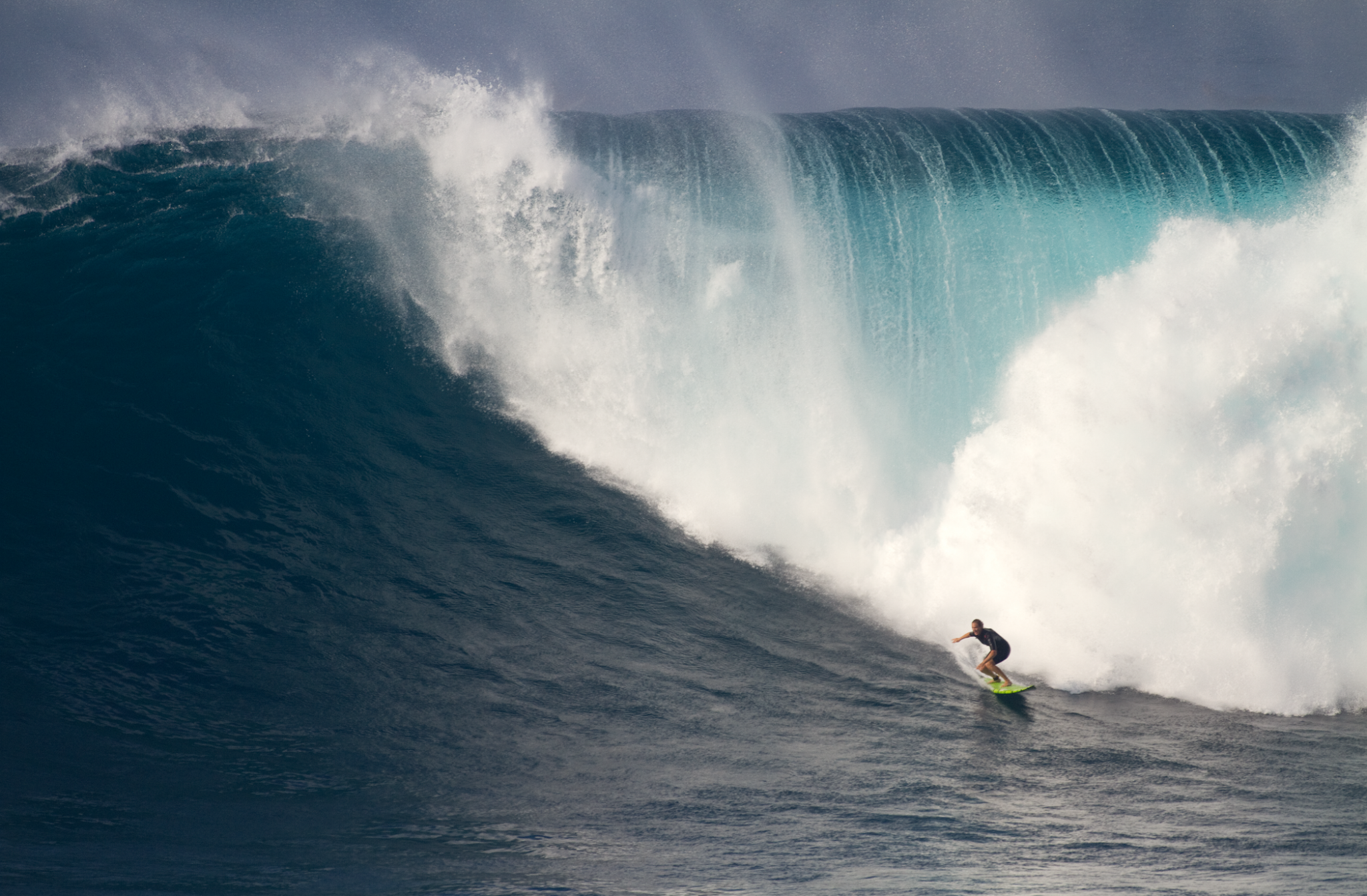 I'm also a part of a film project that will begin in Hollywood any day. The film is based on a New York Times article that three of my friends and I were a part of a few years ago. Charlize Theron's production company purchased the life rights to this story.
Filming will start soon, and hopefully, all four of us will get to do our stunts in the project.
And what is the best way for people to find and follow you?
Social media. My Instagram is @PaigeAlms